Authors:
Posted:
Categories:
NHS England Medicines Optimisation Opportunities - measures on OpenPrescribing
NHS England has recently launched a new programme of National Medicines Optimisation Opportunities for 2023/24. The guidance outlines 16 key areas of focus, of which Integrated Care Boards (ICBs) are advised to select at least five to implement alongside their local priorities.
At OpenPrescribing we have worked quickly to review these areas, so that we can provide every single practice, PCN, ICB and NHS England region with relevant measures. This will help inform local discussions about how to best select and address the opportunities set out by NHS England.
In this blog, two of our pharmacists - Andrew Brown and Chris Wood - describe the relevant measures we currently have in OpenPrescribing and how to access and use them.
To access the dashboard, go to your practice, ICB or PCN homepage, view all standard prescribing measures, and then select "National Medicines Optimisation Opportunities" from the drop down measures category menu (red arrow below). You can read more about grouping measures in our previous blog or view our YouTube explainer video. As always, by default the measures are sorted with the greatest potential for improvement first, according to your ranking amongst other organisations. To identify the greatest potential for improvements in cost (where applicable), choose the "Potential savings" sorting option.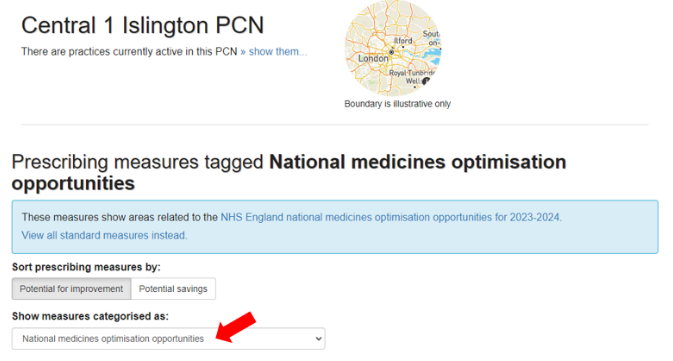 What is included on the dashboard?
Initially, we have included the following prescribing measures on the dashboard, which are all relevant to National Medicines Optimisation Opportunities:
What isn't included?
Firstly, OpenPrescribing only contains information about prescriptions issued in primary care by GPs. You can read more about our thoughts on hospital medicines data here.
Secondly, the National Medicines Optimisation Opportunities includes areas which relate to the safety or 'appropriateness' of prescribing, where it is necessary to know fine grained information about the patient , such as their clinical conditions or their ethnicity, to assess the measure correctly. For sensible data protection reasons data of this sort could never be made publicly available by the NHS!
Taking the 'Improving Valproate Safety' area as an example, to determine progress on this it would be necessary to understand:
the patient's sex - to include female
the patient's age - to include those of typical childbearing age
any other coding that may would affect childbearing potential - post-menopause, hysterectomy, infertile, etc
whether the patients has a Pregnancy Prevention Plan in place - reflected by relevant codes
And to address the key aim of the policy to address health inequalities we would need information on where the person lives, their socioeconomic status, their ethnicity etc.
You can read more here about the Bennett Institute work on this granular data that is held by GPs as part of our OpenSAFELY project. OpenSAFELY is analytic software that facilitates safe and secure analysis across 58 millions people's NHS records to support the response to the COVID-19 pandemic.
What next?
This is just our first iteration of our National Medicines Optimisation Opportunities dashboard dashboard. We are a small mixed team of clinicians, academics, and software engineers. We are able to build and launch dashboards quickly as we work in an agile manner, openly describing our methods and code. If you have any suggestions for further developments of our National Medicines Optimisation Opportunities dashboard please get in touch at bennett@phc.ox.ac.uk