You can sign up for email versions of this newsletter here.
The DataLab is now the Bennett Institute for Applied Data Science
We are delighted to announce the launch of the Bennett Institute for Applied Data Science at the University of Oxford, established to pioneer better use of data, evidence and digital tools in healthcare and policy, optimising the impact of interventions to achieve improved outcomes. The Institute has been made possible due to a generous donation from The Peter Bennett Foundation. The newly appointed 'Bennett Professor of Evidence-Based Medicine', Professor Ben Goldacre, is also the inaugural director of the Bennett Institute. For more details see this page.
We are recruiting!
Make a difference in NHS research: join us as a research administrator. You will be vital for enabling researchers to access NHS data on one of the most trusted research platforms, OpenSAFELY. Applications close at noon on 6th July. You can read more and find out how to apply here.
Goldacre Review
In February 2021 the Secretary of State for Health and Care commissioned our director - Professor Ben Goldacre - to lead an independent review into the use of NHS data for research and analysis. Over the past year Ben and our policy lead Jess (with help from the wider team, civil servants in DHSC, and the NHS Transformation Directorate) have conducted interviews with over 300 individuals, held 8 open focus groups, reviewed over 100 written submissions, and conducted extensive desk research, to reach the conclusions that were published in the Goldacre Review "Better, broader, safer, using health data for research and analysis". For more details and links to the full report, see our recent blog post.
Outlier Dashboards
Our OpenPrescribing Outlier Detection Dashboards are live! Briefly, they are new dashboards for your organisation that take a data driven approach to help identity where your prescribing is an outlier, which may or may not be justified. You can find a link to the dashboard for your practice, PCN, CCG or STP in the bottom right corner of your organisation's landing page, under "OpenPrescribing Labs". You can read more about our outlier detection dashboards in this blog post and watch a demonstration in this video.
Please tell us what you think about the tool and any items it identifies using our ongoing survey, emailing us at bennett@phc.ox.ac.uk or tweeting at @OpenPrescribing.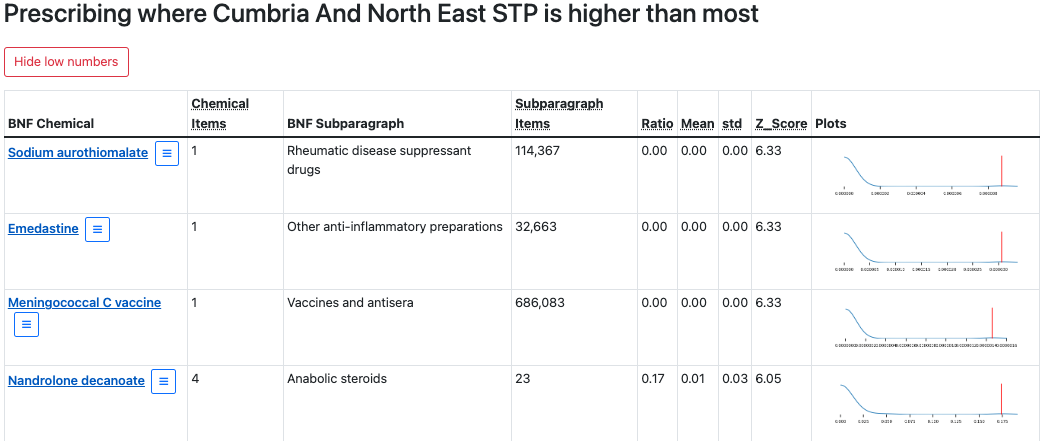 Recent Updates to OpenPrescribing Measures
We have added new measures for "Proportion of Direct Acting Oral Anticoagulants (DOACs) not prescribed as edoxaban" and "Average carbon footprint per salbutamol inhaler" which are based on indicators in the Investment and Impact Fund 22/23. We have also updated the previous "Prescribing of Freestyle Libre" which has now become "Prescribing of continuous glucose monitoring sensors" to include all continuous glucose monitoring sensors as they become available.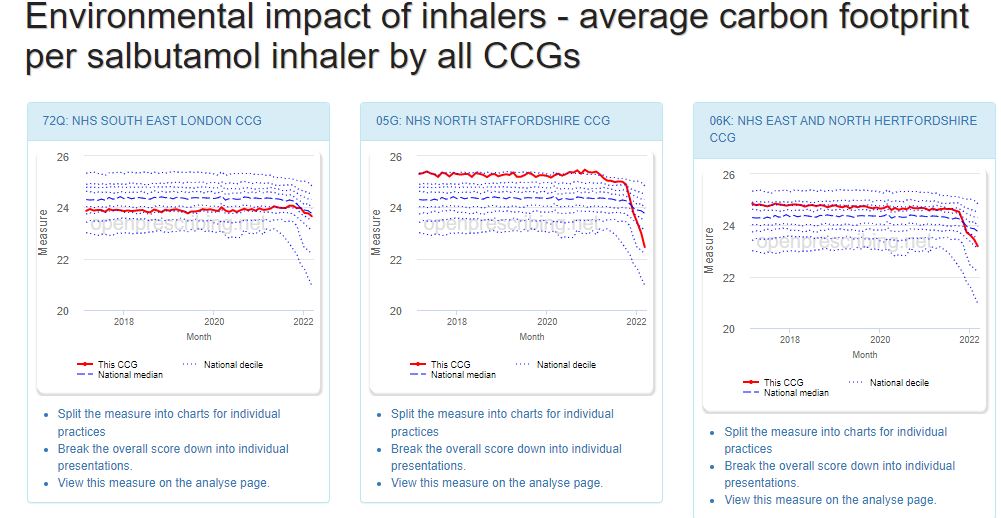 New Data
We've updated OpenPrescribing with April 2022 data. Head over to www.openprescribing.net to explore and sign up to your organisations custom email alert for tailored feedback about your prescribing.
OpenSAFELY News
Since the start of the pandemic, much of the OpenPrescribing team have been building and researching in our powerful new OpenSAFELY platform for COVID-19 related research and service monitoring. You can read all our outputs on the website and our new OpenSAFELY reports website but we think the following analyses will be of interest: