Methotrexate Prescribing Safety — New paper in BJGP
This week the British Journal of General Practice published our latest paper on unsafe prescribing of methotrexate. We found that the prevalence of unsafe methotrexate prescribing (10mg tablets) has reduced but remains common, with substantial variation between practices and CCGs. In the paper we also discuss recommendations for better strategies around implementation.
Anyone can view the live data on unsafe methotrexate prescribing at openprescribing.net/measure/methotrexate, to support audit and review in your local organisation. Read the paper here and you can watch Dr. Kevin Barret (twitter @drkbarret) describe here how his practice used OpenPrescribing to identify a breach of their practice policy on methotreaxte prescribing and fix it!
Bespoke Email Alerts
At OpenPrescribing we know that clinicians can be overwhelmed with guidance and data about many different aspects of care. We have therefore developed an innovative email alert service for every single practice, primary care network (PCN) and clinical commissioning group (CCG) in England. We deliver bespoke custom emails to your inbox about your own organisation's prescribing, highlighting which aspects are most different to your peers. Anyone can sign up!
To sign up to you organisation's alerts all you need to to is:
Go to your organisation's homepage. Search here for your:

Or find your PCN and CCG on your practice homepage.

Enter your email in the subscribe box at the bottom of the dashboard
HIT SUBSCRIBE
We have written a blog here with some more information about the alerts, our methods and examples. Please feel free to include in your own newsletters/bulletins and share with colleagues such as prescribing leads, PCN pharmacists and clinical directors.
Impact of COVID-19 on prescribing in English general practice: March 2020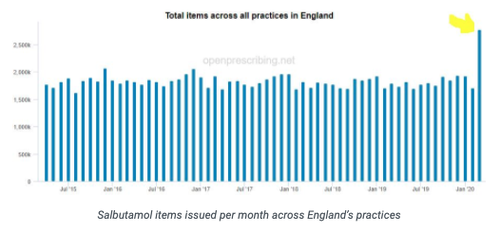 Salbutamol items issued per month across England's practices
March 2020 prescribing data gave the first glimpse into the impact that COVID-19 has had on prescribing and we have written a blog on a rapid analysis we conducted. Overall, there has been an increase of 8.5 million items (9.3%) in March 2020 and additional costs of £118 million (17.6%) compared to March 2019 with some interesting changes at a chemical level. Read more on the blog, which also has a special focus on changes to antibiotic prescribing. We are currently analysing April 2020 data, if there is a particular clinical area you would like us to dig further into or anything interesting you have noticed please get in touch at [feedback@openprescribing.net](mailto: feedback@openprescribing.net).
Prescribing data update!
We've updated OpenPrescribing with April data. Head over to www.openprescribing.net to see more and encourage colleagues to sign up for their organisation's bespoke email alert.
OpenSAFELY News
In case you missed it: You can read our first study, on factors associated with increased risk of death with COVID-19, in its preprint form here (peer-reviewed version will be available very soon, look out for announcements on Twitter!)
NSAIDs protocol feedback wanted: We are now looking at whether patients receiving NSAIDS have an increased risk of emergency presentation and/or death from COVID. We have made our protocol available here and are seeking constructive feedback on our study protocol via this survey before Friday 29th of June.
We have more studies on medicines coming shortly, keep up to date: follow @opensafely on Twitter
CEBM COVID-19 Evidence Service
The Bennett Institute team has contributed to evidence reviews as part of the Oxford evidence service supporting the COVID-19 response. They include:
COVID-19 TrialsTracker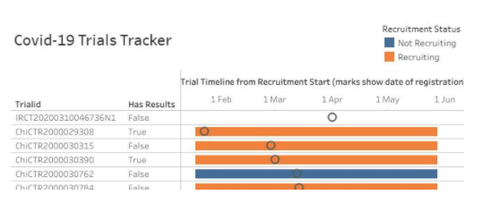 Our TrialsTracker team has launched new tracker for COVID-19 research at covid19.trialstracker.net. This takes data from the WHO ICTRP database on COVID-19 trials — including vaccines and treatments — and ensures the data is cleaned and key attributes made available for secondary analysis.