OpenSAFELY.org
OpenSAFELY is a new secure analytics platform for electronic health records in the NHS, created to deliver urgent results during the global COVID-19 emergency. OpenSAFELY is a collaboration between the Bennett Institute, the EHR group at London School of Hygiene and Tropical Medicine and TPP who produce SystmOne. OpenSAFELY is now successfully delivering analyses across more than 24 million patients' full pseudonymised primary care NHS records. The first analysis from OpenSAFELY is Factors associated with COVID-19-related hospital death in the linked electronic health records of 17 million adult NHS patients with more answers to important questions expected shortly.
All OpenSAFELY analytic software is open for security review, scientific review, and re-use. It uses a new model for enhanced security and timely access to data: we don't transport large volumes of potentially disclosive pseudonymised patient data outside of the secure environments managed by the electronic health record software company; instead, trusted analysts can run large scale computation across near real-time pseudonymised patient records inside the data centre of the electronic health records software company. This pragmatic and secure approach has allowed us to deliver our first analyses in just five weeks from project start. Read more at opensafely.org.
Impact of COVID-19 on prescribing in English general practice: March 2020
OpenPrescribing.net has been updated this week with the latest release of prescribing data covering March 2020. This gives us the first glimpse into the impact that COVID-19 has had on prescribing and we have written a blog on a rapid analysis we have conducted. Overall, there has been an increase of 8.5 million items (9.3%) in March 2020 and additional costs of £118 million (17.6%) compared to March 2019 with some interesting changes at a chemical level. Read more on the blog, which also has a special focus on changes to antibiotic prescribing.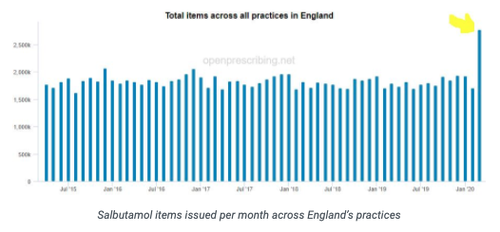 Price Concessions!
NHS price concessions have started to rise substantially and will cost the NHS an estimated £24.4million extra in April using our current methodology. There is a big caveat on our estimate this month: estimates are based on routine volumes of prescribing. To keep up to date wit the latest concessions we recommend your sign up to our automated email alerts for you organisation by entering your email in the box below the price concession chart. You will receive the latest concessions and an estimate of impact within minutes of PSNC announcing the concessions.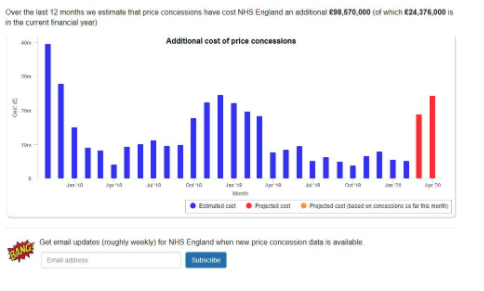 PCN - Bespoke Email Alerts
Earlier this year we developed and launched a bespoke customised email alert for every single PCN — sign up using the box on the bottom left of your own PCN prescribing dashboard. Every month we will send you a simple email giving you an update on your PCN prescribing, highlighting what you are good at, identifying areas that may require review and highlighting changes compared to your PCN peers. Our full methods behind the alert are published in a paper Detecting Change in Comparison to Peers in NHS Prescribing Data. You can also sign up for bespoke alerts your practice or CCG on your organisations dashboard. Please share with colleagues especially staff newly hired by PCNs.
NHS Prescribing Data Changes
Last month the NHS made some substantial changes to the way prescribing data is published and so we have adapted our OpenPrescribing software to handle these changes. As always we have written about the changes in our blog and set out some analysis for everyone's information, while making the full detail openly available via GitHub. There are a few tiny details still to be implemented, like the new BNF-to-dm+d map, so if you do notice anything odd as a result of the changes please let us know at feedback@openprescribing.net.
At The Bennett Institute we like to work in the open and share our insights for the whole community, so we can fix a problem for us, then share the solution, and help fix it for everyone. We think this is efficient for us and the whole system and this blog is a good example of this in action.
Prescribing data update!
We've updated OpenPrescribing with March's data. Head over to www.openprescribing.net to explore.
In other news…
Highlights from our other projects
CEBM COVID-19 Evidence Service
The Bennett Institute team has contributed to evidence reviews as part of the Oxford evidence service supporting COVID-19 response. They include:
COVID-19 Trials Tracker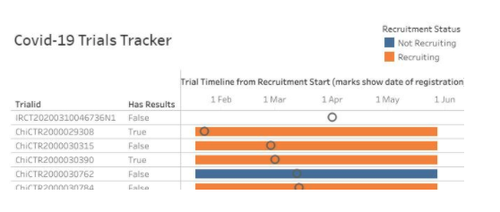 Our TrialsTracker team has launched new tracker for COVID-19 research at covid19.trialstracker.net. This takes data from the WHO ICTRP database on COVID-19 trials — including vaccines and treatments — and ensures the data is cleaned and key attributes made available for secondary analysis.
Sign Up
Get all this information direct to your inbox, monthly: Sign up here.