Authors:
Posted:
Categories:
At the Bennett Institute we get many people contacting us every month asking us when OpenPrescribing will be available in their country. In this blog we are outlining OpenPrescribing.yourcountry where we give you the information that you can use locally to build a case for OpenPrescribing in your country and obtain funding to support development. We aren't quite ready to build OpenPrescribing.yourcountry yet, but we will be soon and we wanted to share our plans so you can be ready when we are.
What is OpenPrescribing?
OpenPrescribing is an open interactive web explorer of English GP prescribing, making it easier for everyone to explore NHS prescribing patterns in England down to the level of individual practices, supporting safer, more efficient prescribing. We provide a suite of widely used interactive data explorer tools, with live data updating every month, with over 135,000 unique users in the last year alone. Our tools include:
We use advanced data science "under the bonnet" to produce user-friendly interactive tools for clinicians, policymakers, researchers, patients, and the public as well as producing a vast amount of traditional academic research.
Figure 1: Number of prescription items for all NSAIDs excluding ibuprofen and naproxen as a percentage of the total number of prescription items for all NSAIDs (link to measure and why it matters)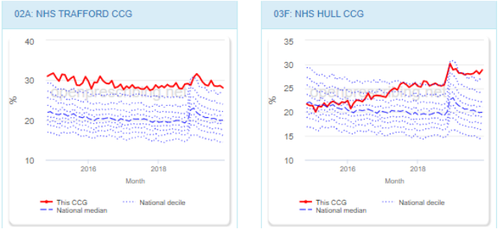 What is OpenPrescribing.yourcountry?
We would like to make OpenPrescribing available anywhere that suitable prescribing data exists, and put the data in the hands of coalface clinicians and the public in your country, allowing open audit and review of prescribing. To make OpenPrescribing.yourcountry a reality, we would love our code to be repurposed, hosted and deployed in your country with local clinicians, academic and software engineers driving developments in line with local practice. Although all of the code behind openprescribing.net is already openly shared, it will require some iteration and development to allow easy re-use across multiple new countries, data schemas, and organisational structures.
As well as OpenPrescribing.yourcountry, we will develop our code to support a collaborative approach and platform across all OpenPrescribing countries, and produce a platform for collaboration around practical applied use of prescribing data internationally. This will harness the power of our very large existing user-base; generate international comparisons of prescribing between health systems and allow pooling of insights with others who have developed and delivered applied analytics platforms to users in their country. Every single line of code developed as part of OpenPrescribing.yourcountry will be shared openly with everyone for free allowing others to learn and reuse the code from the project. Importantly, this means that OpenPrescribing.yourcountry will not be beholden to the Bennett Institute in a long-term inflexible contract.
How much will OpenPrescribing.yourcountry cost?
The traditional route to building an informatics service is slow: some senior managers write a specification document, that is given to a software company, who bid a price, and deliver a product 18 months later. Our approach is different: clinicians, academics, and software engineers work closely together, pooling skills to produce all our digital tools in-house. We produce rapidly iterating prototypes that are launched and used by the community, with open feedback from all. This means we can deliver projects faster and more efficiently than most large IT projects.
We can't give you an exact price right now but in order to deliver a minimum prototype of OpenPrescribing.yourcountry we would need to: undertake a thorough investigation into prescribing data available in your country and hows it schema fits with ours, repurpose our existing code, build and test the tool with users from your country. With this approach, combined with your input, we will deliver a non-updating prototype quickly. The prototype will serve as a "shop window" for you to demonstrate the usefulness of such a tool, and leverage additional ongoing funding to deliver a fully functioning tool that meets the needs of people in your country.
Next Steps
If you are an organisation with the required funds please get in touch to discuss building OpenPrescribing with your data: bennett@phc.ox.ac.uk. If you are not a funder but would like to have OpenPrescribing.yourcountry to support better healthcare, please share this page with policymakers and funders and tell them how beneficial this project would be. If you obtain funding through traditional academic funds in your own country and would like to include OpenPrescribing.yourcountry in a formal funding application please get in touch at least six weeks before the application deadline.