Authors:
Posted:
Categories:
Update September 2020: NHS England have announced a reduction in the number of planned measures including the majority of the measures on OpenPrescribing. We will remove the IIF dashboard in a future update.
Update: Due to COVID19 response NHS England has announced that the IIF will be postponed. We will continue to make this dashboard available as NHS England also states that they will continue to monitor the data to understand any impact.
NHS England has launched a new Investment and Impact Fund (IIF) as part of the GP and Primary Care Network contract settlement. As part of the fund NHS England will invest money based on PCNs achieving goals in certain prescribing measures, in a similar manner to how the Qualities and Outcomes (QOF) works for practices. At OpenPrescribing we have worked quickly and iteratively to launch an IIF prescribing dashboard for every single practice and PCN to inform discussions locally about how best to use resources to achieve the goals set out by NHS England.
In order to access the dashboard you should go to your practice or PCN homepage, view all your prescribing measures and then select "NHS England Investment and Impact Fund" from the drop down measures category menu (red arrow below). You can read more about grouping measures in our previous blog or view our YouTube explainer video. As always, by default the measures are sorted with the greatest potential for improvement first, according to your ranking amongst other organisations. To identify the greatest potential for improvements in cost (for measures where this applies), just choose the "Potential savings" option (highlighted yellow below).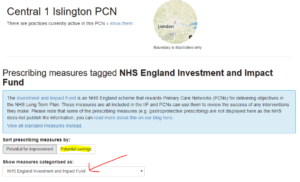 What is included on the dashboard?
We have included prescribing measures on the IIF prescribing dashboard where we already have a measure on OpenPrescribing, including metered dose inhalers as a proportion of all inhalers (excluding salbutamol) and all 25 of the NHS England low priority medicines. The IIF will only include 20 of these measures but NHS England has not specified which of the five measures will be omitted. We will review and remove these five once they have been announced.
What isn't included?
The IIF also includes measures unrelated to prescribing, such as social prescribing referrals and learning disability health checks, which we will not be able to display on OpenPrescribing. Additionally there are three measures of prescribing safety, where PCNs will be rewarded based on prescribing medicines that reduce the risk of bleeding to people taking medicines which increase risk of bleeding. Presently OpenPrescribing cannot support this type of analysis as the NHS does not publish sufficiently detailed information; however NHS Digital have announced that access to data that supports this type of analysis will be made available, in an appropriate manner, in 2020. We will keep you updated!
What next?
This is just our first iteration of our IIF prescribing dashboard, we worked quickly and launched our first version within 24 hours of NHS England announcing the IIF. We are a small mixed team of clinicians, academics, and software engineers. We are able to build and launch dashboards quickly as we work in an agile manner, openly describing our methods and code. We will share more about our working methods later this year but if you have any suggestions for further developments of our IIF prescribing dashboards please get in touch at bennett@phc.ox.ac.uk