Authors:
Posted:

27 November 2019

Categories:
Today on OpenPrescribing.net we have launched our Primary Care Networks (PCNs) dashboard. We have PCN prescribing dashboards available for every single NHS PCN and their member general practices. This allows anyone to explore NHS prescribing patterns in their PCN and see how this compares to other PCNs across England — supporting safer, more efficient prescribing.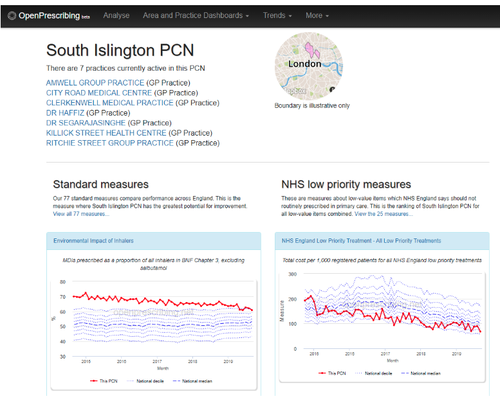 What are NHS PCNs?
PCNs are groups of practices, which together serve communities of around 30,000-50,000 people, with the aim of improving care for patients. PCNs were announced as part of the NHS long term plan and many PCNs have formed already and started to recruit staff such as clinical directors and clinical pharmacists to improve and optimise the use of medicines. We hope our PCN prescribing dashboards will assist everyone across the country to identify and prioritise areas where prescribing can be improved.
In addition to our PCN prescribing dashboard we have also developed a bespoke customised email alert for every single PCN. You can sign up to our innovative email alert by putting your email address into the box on the bottom left of your own PCN prescribing dashboard (Figure 2). Every month we will send you a simple email giving you an update on your PCN prescribing, highlighting what you are good at, identifying areas that may require review and highlighting changes compared to your PCN peers. We have received enormously positive feedback on these alerts at a practice and CCG level and you can also read our paper on the methods behind these email alerts.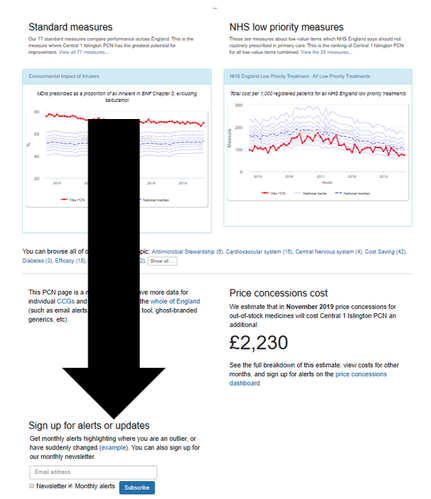 Why did it take you so long?
It didn't take long! Earlier this week, the NHS Organisation Data Service (ODS) released the PCN ODS codes and their general practice membership list and we have worked quickly to build a PCN prescribing dashboard for every single PCN with an ODS code. We wrote in June about our intention to develop PCN dashboards and we then built the code infrastructure in advance of a membership list being available. This has allowed (almost) immediate delivery to all our users.
What next?
This is just our first iteration of our PCN prescribing dashboard, email alert and related tools. We are a small mixed team of clinicians, academics, and software engineers and we pride ourselves on developing our tools in response to the needs of our users. If you have any suggestions for further developments of our PCN prescribing dashboards please get in touch at bennett@phc.ox.ac.uk