Authors:
Posted:
Categories:
This week we launched a new measure of seven day prescription for medicines used to treat long-term conditions. There is no current consensus on duration of prescription across the NHS and prescribers are advised that they should write a prescription for a duration that is clinically appropriate. For medicines that are for stable long-term conditions many areas have policies in place recommending one, two, or three month prescriptions.
What are Medicines Compliance Aids?
Medicines Compliance Aids (MCAs), sometimes known as dosette boxes or pill organisers, are plastic boxes with small compartments that show which pills need to be taken at what time of day. The British Medical Association reports growing requests to prescribe seven day quantities of medicines to fund supply of medicine compliance aids (MCAs). We propose this measure of seven day prescriptions for long-term conditions as a surrogate measure for MCAs.
What is the evidence for Medicines Compliance Aids?
The Royal Pharmaceutical Society has issued guidance stating that while some may think of MCAs as a panacea, there is limited evidence base to support their use. The use of original packs of medicines with appropriate support is the preferred option of supplying medicines and every patient identified as having medicines adherence issues should have a robust individual assessment to identify the best intervention based on their needs and the evidence currently available. A recent Pharmaceutical Journal article also questions the amount of MCAs currently in use, based on an estimate of 64 million used annually in England, as well as highlighting growing safety concerns supported by data from the National Reporting and Learning System and the National Pharmacy Association.
What is the measure definition and what are the caveats?
We propose this measure of seven day prescriptions for long-term conditions as a surrogate measure for MCAs. We measure seven day prescriptions for a basket of medicines: atorvastatin, simvastatin, levothyroxine, amlodipine and ramipril, commonly prescribed once daily for long term conditions. There are many important caveats to consider if this measure is used as a surrogate for MCAs including: a seven day prescription may be clinically relevant even for long-term conditions in certain circumstances; sometimes pharmacies will supply a MCA without a seven day prescription after making an individual assessment; and some local areas may fund provision of MCAs via a separate payment. Nonetheless we think this measure may be useful for reviewing your local practice. In April 2022 the national median was 1.5% (figure 1) for the proportion of medicines for common long-term conditions prescribed as seven day quantities and that figure rises to a high of 12% in a single CCG in the North East.
Figure 1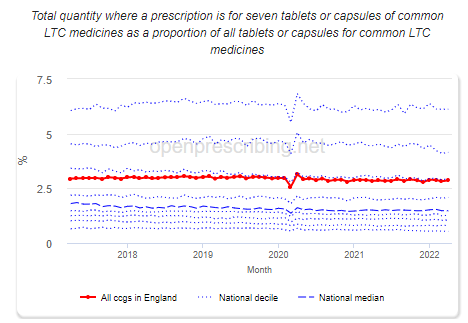 Where did this measure come from?
We value openness and transparency, because we think open discussion of ideas and methods will help create better insights. This measure came about when one of our users got in touch with us asking if we have any data about MCAs. Although we didn't have a perfect answer, the following discussions between our clinicians, software engineers and academic researchers led to the development of this measure. We think this open collaborative approach is important and you can read here about how the Bennett Institute tries to embody it. As always, our entire analysis is freely available for inspection, review, and re-use on GitHub, you just need to understand some Python and SQL (if you don't, then come on the courses we will shortly be running!). If you have any thoughts about this measure or ideas for a new measure of prescribing please get in touch at feedback@openprescribing.net