Authors:
Posted:
Categories:
Today we launched a new feature on OpenPrescribing: an NHS Price Concession email alerts service. This is in addition to our existing calculator that shows cost impact of price concessions, which can already be viewed on every practice, CCG and All England dashboard. You can read more about price concessions (aka NCSO) in our previous blogs.
Many users of OpenPrescribing receive our monthly newsletter and our innovative email alert service for practice and CCG prescribing measures. Today we are adding a new NHS Price Concession email alerts service. Once signed up, this alert will pop into your inbox a few hours after a new price concession is announced, which will be approximately once per week, to update you on the impact these costs are predicted to have on your practice/CCG.
To sign up to the price concession alert, go to your price concession calculator of interest from your practice, CCG or All England dashboard, and you will find the sign-up box below the graph of additional cost (see screenshot below).
Enter your email
Tick the Alerts box
Hit subscribe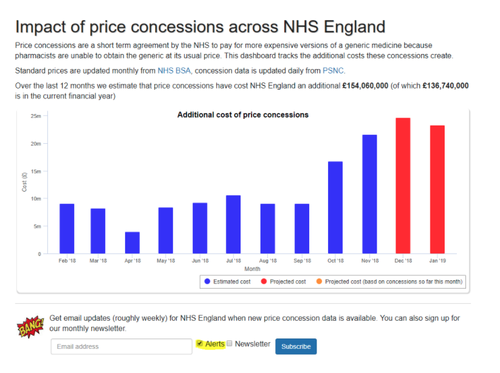 You will now receive email updates after the next price concession is announced. Please check your junk folder if you do not receive it.
This is the second major iteration of our concession calculator. At the Bennett Institute we pride ourselves on developing our tools swiftly and iterating them based the needs of our users. Please get in touch with suggestions for improvements via feedback@openprescribing.net