Earlier this year we launched our FDAAA TrialsTracker, providing a live look at whether individual sponsors and trialists are meeting their responsibility to report the results of clinical trials on ClinicalTrials.gov. Now we have launched the EU TrialsTracker. This new tracker shows the results status for every trial on the EU Clinical Trials Registry (EUCTR). We are launching the tracker alongside a paper in the BMJ providing a detailed overview of our methods, an analysis of the factors associated with non-reporting and a discussion of the data issues that make assessing compliance difficult on EUCTR.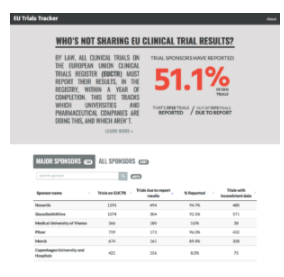 We've seen some great coverage of the tracker in major international outlets like Reuters and the Financial Times; national outlets in Europe such as the Telegraph in the UK, Elm Pais in Spain, and CPH Post in Denmark; major science publications like The BMJ, Nature, and Science; and in the popular press such as Quartz, Pacific Standard and STAT News.
For some context, a 2012 EU guideline required all trials registered in the EU's EudraCT system, including trials publicly displayed on EUCTR, to report their results within 1 year of the global end of trial date with very few exceptions. Phase 1 trials are the only major group exempt from having to publicly report results. A 2014 EU regulation will continue to build upon these transparency guidelines as it comes into force across Europe over the coming years. As of today, just 51.1% of trials assessed as due to report in the EUCTR have reported results with significantly more results reported by industry sponsors than non-commercial sponsors.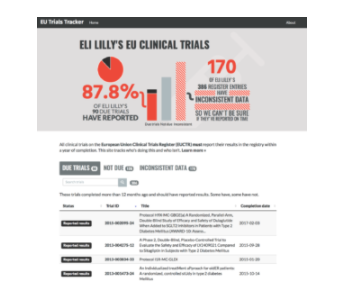 The EU TrialsTracker groups every trial on the EUCTR by sponsor in sortable tables. The free-text sponsor field has been manually normalised to ensure that trials are assigned to the correct sponsor. In addition we let you know when we believe a sponsor has been acquired or merged with another sponsor.
We hope the EU TrialsTracker will be a valuable resource for companies and institutions to recognise their unreported trials and work to ensure they get their trials reported. The data on the tracker will update monthly and, resource permitting, we hope to add to and expand the tracker moving forward.
Some important decision makers have also commented on how valuable the EU TrialsTracker will be moving forward:
Norman Lamb MP, Chair of the House of Commons Science and Technology Committee, said: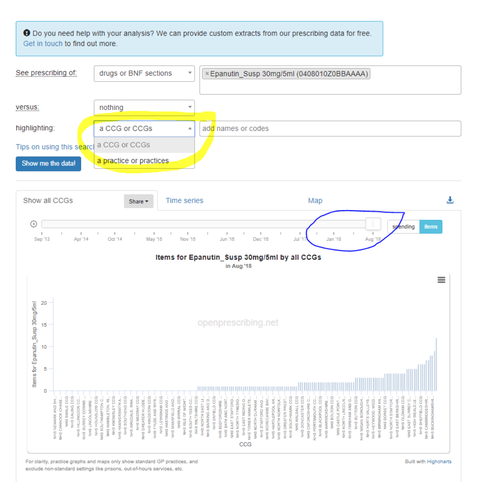 Fergus Sweeney, Head of Inspections, Human Medicines Pharmacovigilance and Committees at EMA
"We welcome the publication of this study. It is a very good example of how transparency can support public scrutiny and enable the development of tools to support that.

We need to reflect on how we can improve our communication with academic sponsors and smaller sponsor organisations. This study helps to spread the word on how important it is to post trial results once a clinical trial is over. We at EMA are firm believers that transparency and public availability and scrutiny of clinical trial information and results are fundamental for the protection and promotion of public health."
Expect to see more about the EU TrialsTracker in the coming days. EU trials will also begin to show up in our Unreported Trial of the Week series at the BMJ. We're always keen to hear feedback on the tracker and our methods so if you have any insights, comments, questions, suggestions, or anything else you feel we should know about, please get in touch: bennett@phc.ox.ac.uk